Last month, leadership of the American Medical Association, in conjunction with representatives from medical schools in Pennsylvania and Rhode Island, unveiled the latest innovation in the quest to improve physician training to meet the demands of practicing medicine in the 21st century. The announcement centered on a new health systems textbook that would add a third pillar to the basic training program for students, which currently focuses on basic and clinical sciences.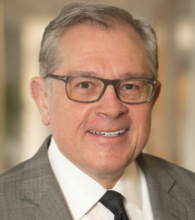 James L. Madara, MD
"Medicine is massively changing in this 21st century," said AMA CEO James L. Madara, MD. Despite emerging technologies and delivery systems, Madara said the way students are taught hasn't changed much over the past century. "The result has been an ever-widening gap in how physicians are trained and how they practice.
He continued, "Our medical schools are very good at preparing students for the basic and clinical sciences that are paramount to providing care to patients, but what is largely missing is how to deliver that care in a complex health system."
In order to rethink education from the ground up, Madera said the AMA launched a strategic initiative ­- Accelerating Change in Medical Education - in 2013 by providing $11 million in grants to 11 of the nation's medical schools. The schools formed a consortium to share best practices and ideas to develop innovative curricula and reimagine the way education and training occurs. In 2015, the AMA expanded the consortium by providing grants to an additional 21 schools to better align undergraduate medical education with the evolving practice environment.
"What's beginning to emerge from these meetings," he said of the consortium, "is a vision of what the medical school of the future would look like." Central to that, he said, is the need to add a focus on health systems science. "It's our belief and our hope that health systems science will be a cornerstone of medical schools across the country."

Susan Skochelak, MD
The AMA and 11 founding consortium schools wrote the new textbook together to address this new third pillar. Susan Skochelak, MD, MPH, vice president for Medical Education Outcomes with the AMA, said the new textbook looks at a range of topics including value-based care, patient safety, team work, leadership, clinical informatics, population health and the social determinants of health, along with healthcare policy, economics and financing.
While a number of the consortium schools are already incorporating health systems science into their curriculum, Skochelak noted, "These important topics are not currently widely taught in medical school." The hope is that will change when the new textbook, which is published by Elsevier, becomes widely available in mid-December. "Our goal is to enable all medical schools across the country, not just those working with the AMA's consortium, to access this innovative work and the consortium's expertise to make sure their students become physicians who understand how patients receive and access care in today's healthcare system."
Jeff Borkan, MD, PhD, who serves as assistant dean for Primary Care-Population Medicine Program Planning for the Warren Alpert Medical School of Brown University, said health systems science is critically important to both students and the larger healthcare system. "Students have been graduating without some of the basic tools they need to operate in the real world," he stated.
Brown created its first-in-the-nation Primary Care-Population Medicine program, which awards graduates both a medical degree and a master's in population medicine, to develop physicians who could better lead community-based primary care at the local, state or national level. While Brown's program began with primary care, Borkan was quick to add health systems science is important to all physicians across all specialties.
He also said the consortium recognized there was some concern about adding the additional materials required to teach the new third pillar. "But it's fair to say students need many of these skills to function so this material will help them be more efficient and effective."
"The EHR is the number one tool of physicians today," pointed out Skochelak. "We wouldn't let our young physicians graduate without knowing how to use a stethoscope, yet we haven't been that careful about teaching our students about EHRs."
However, Skochelak added, "We can't just put more material in an already filled curriculum, we have to change what we're teaching." She said the plan is to get rid of duplicative and redundant material to make sure there is room to teach what have been deemed to be critical skills for the future. As with the first two pillars of basic and clinical science, the plan is for health systems science to be tested as part of a national exam the consortium has helped create.
"From the standpoint of the American Medical Association, our mission statement supports the art and science of medicine to the betterment of patients, and a primary way of doing that is having physicians trained to care for patients where they are," concluded Madara. "We have an enormous amount of enthusiasm and excitement about this work."
AMA House of Delegates Adopts Policies Impacting Med Ed
Last month, during the American Medical Association's Interim House of Delegates (HOD) meeting in Orlando, the national organization adopted several new policies to further its strategic efforts to innovate how medical students are trained. Building on the AMA's Accelerating Change in Medical Education initiative, the HOD called for the creation of leadership programs and new curricula that emphasize experiential and active learning models that include knowledge, skills and management techniques integral to leading interprofessional care teams.
The policy also calls for all medical students to receive this leadership training early in their medical education and encourages medical students and residents to work alongside community healthcare workers to gain important insights about how cultural competency could improve the delivery of care for patients with chronic diseases.
"As our healthcare system continues to evolve, medical schools must do more than simply prepare young doctors to care for patients - they must prepare them to take leadership roles in their practices," said AMA board member Jesse M. Ehrenfeld, MD. He added the new policies would ensure "future physicians are prepared to quickly adapt to the changing healthcare landscape and provide care to patients, populations and communities as soon as they enter practice."
WEB: